Attention fight fans!
As we get closer to the November 25 release date of Creed, more details will continue to trickle out about the upcoming flick. Up now is photo number two, featuring fan favorite Rocky Balboa (Sylvester Stallone) training Adonis Creed (Michael B. Jordan) some of his magical moves at the speed bag.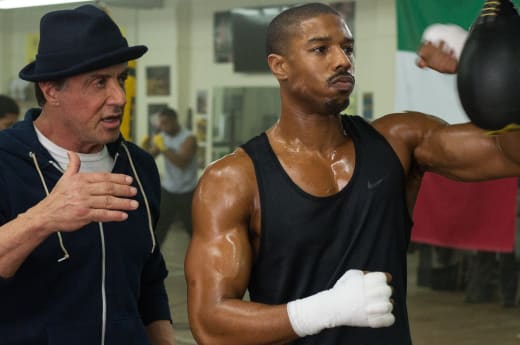 We've already shared the Creed synopsis, and noticed things getting a little dusty in the room (don't just look at us, pass the tissues!) at the thought the biggest fight in Rocky's life might pertain something outside the ring like, oh, you know...cancer or another life-endangering illness.
For now, Rocky is looking fairly dapper in his signature hat and jacket, ever the patient and kind-hearted man, taking his one-time opponent and eventual friend's son, Adonis, under his wing despite not really wanting him to get into the ring, given what happened to Apollo Creed against Drago in Rocky IV.
Whew! There is a lot of history to break down before making your way into the theater to see Creed, isn't there?
Fear not, you can watch Rocky online right here. Why not start at the beginning? Although Rocky II has better love scenes. Just sayin' – there may be a girl in your life who's into that sort of thing. Or something.
Carissa Pavlica is a staff writer for Movie Fanatic. Follow her on Twitter and on Google+.