The highly-anticipated film adaptation of Entourage is finally here!  
If the Entourage trailer didn't already create enough excitement, the celebrity cameos might put it over the edge.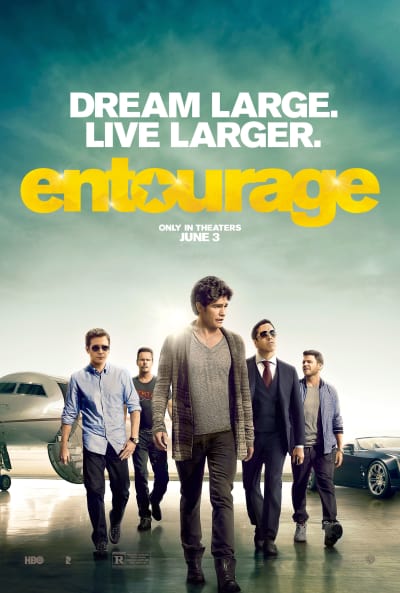 When we say there are a lot of celeb appearances, we mean there are A LOT of celeb appearances.
Ranging from actors to comedians, athletes to news anchors, musicians to sporting executives; Entourage is packed full of celeb appearances.
Not all of the celebs have minor appearances though.  
MMA star Ronda Rousey, who you make recognize from Furious 7, has an even larger role in Entourage.  Also, Billy Bob Thornton and Haely Joel Osment have leading roles too.
You can plan on seeing a lot of them in the film.  But you'll have to pay close attention for the other celebs.  Likely, you are bound to miss a few.
If you head to the theatre to see Entourage this weekend, keep your eyes peeled for the following celeb's cameos:
Piers Morgan

Fashion model Nina Agdal

model Emily Ratajkowski

Mark Cuban

soccer player Thierry Henry

rapper T.I.

Calvin Harris

singer Tameka Harris 

rapper Saigon 

Ed O'Neill

New England Patriots' Rob Gronkowski

David Arquette

Seattle Seahawks' Russell Wilson

Gary Busey 

basketball player Baron Davis

David Spade

Bob Saget

Sportscaster Jim Gray

Pharrell

Green Bay Packers player Clay Matthews III

actor/director/screenwriter Jon Favreau

Warren Buffett

Olympic diver Greg Louganis

comedian and actor Andrew Dice Clay

Mike Tyson

Liam Neeson

Kelsey Grammer

Chad Lowe 

Nora Dunn

Mark Wahlberg 

Common 

Armie Hammer

MMA fighters Shayna Baszler, 

MMA fighter Jessamyn Duke

MMA fighter Marina Shafir

David Faustino

George Takei

Judy Greer

Richard Schiff

Jessica Alba

executive vice president of the New York Giants Steve Tisch

Matt Lauer

Maria Menounos

New England Patriots' Tom Brady

BET host Terrence J

model Alyssa Miller
Now, that is a serious cast of cameos!!