By now, you've probably heard the Tanners are back. But before they arrive on Netflix, Lifetime has a Full House story of its own to tell.
Lifetime has unveiled a sneak peek into their own movie The Unauthorized Full House Story.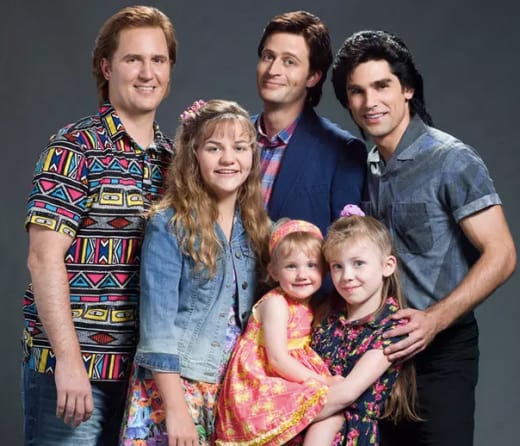 The behind-the-scenes film will give a look into what happened between the cast members over the course of eight years as they filmed the hit TV series.
Lifetime has released the list of cast members:
Garrett Brawith as Bob Saget
Justin Mader as Dave Coulier
Justin Gaston as John Stamos
Stephanie Bennett as Lori Loughlin.
Because the kids grew up and matured throughout the 8-year show, the kids' cast will be split among various actors to better show their growth:
Shelby Armstrong and Brittney Wilson will play the younger and older role of Candace Cameron. 
Dakota Guppy and Jordyn Olson will be Jodie Sweetin.
Aislyn Watson and Jaime Schneider will be Andrea Barber
Finally, the coveted role of Mary-Kate and Ashley Olsen will be divided into three parts:
Blaise and Kindle Todd will be the toddler version of the Olsens. 
Calla and Tyla Jones will serve as the six-year-old twins. 
And Kylie and Jordan Armstrong will act as the twins at 9-years-old.
The film arrives right on cue, as the casting for Netflix's "Fuller House" is getting underway. Everyone from the original series will appear in "Fuller House," except the Olsen twins.  They are no longer acting.
The Unauthorized Full House Story will premiere August 22 at 8 pm on Lifetime.