Like most people, I didn't see Box of Moonlight when it was in the theater, but I was lucky enough to catch it upon its initial release on DVD. It's an absolute gem of a film about a man who tries to do everything just right, by the book, but suddenly realizes that particular outlook on life has left him without any joy in his own life, nor has he managed to pass on the ability to enjoy the smaller things to his son.
Luvven Coddle: I sense a, a yearning in you. A, a searching, almost, as if you're lost. You've been lost for a long, long time. Am I right? You found Jesus, Al.
Al Fountain: Why? Is he missing?
Al Fountain (John Turturro) is married with a young son. He's a construction engineer who has to go away for business very near the Independence Day holiday. His son just wants fireworks and for dad to come home to celebrate and barbeque, but Al calls every night to make sure he's doing his math homework. Their wires are crossed.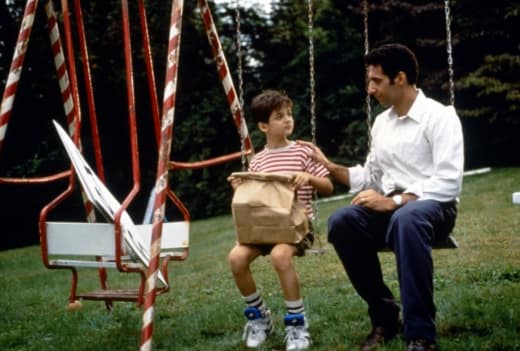 When Al's job is suddenly shuttered, instead of going directly home, something snaps and he remembers being a boy, visiting Splatchee Lake. At Splatchee, he was carefree and life had promise. He wants to go back. 
Instead his car breaks down and he meets the Kid (Sam Rockwell), an adult who is the polar opposite of Al in every way. He dresses like Daniel Boone for some reason and lives in half of a trailer, retrofitted into the woods with string lights and furniture, eating Oreo cookies as a meal replacement. He's an enigma to Al.
The Kid and Al strike up an easy and interesting friendship, one that surprises them both. Al learns from the Kid and the Kid learns from Al. They meet women (Catherine Keener and Lisa Blount), swim naked in ponds, get into tomato battles and revisit the factory Al was building for a little payback for a job unfinished. 
There are sparklers, fireworks and the theme of July 4th bolsters the entire production. It's the perfect summer holiday to remember what it was like to be a kid and try to recapture your innocence and the little devil inside. Turturro and Rockwell are both quirky and play off each other really well, but don't go overboard, something that could have happened considering their characters. Instead, you come to love each equally, genuinely hoping their friendship lasts.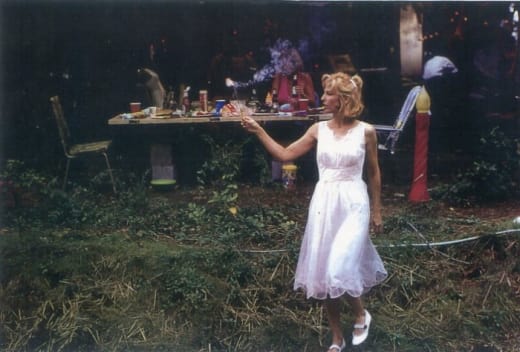 Does Al make it to Splatchee? Does it matter? Well, I will tell you there is a box of moonlight to be found, but how or what it is remains part of the beauty of this film. Just watch. I've been recommending this film by word of mouth for almost 20 years. I'm going bigger now.
If you've ever wondered if it's too late for you to reclaim the magic in your life, Box of Moonlight reminds you it's never too late. There is always a new road to take and a new face in the crowd if you just slow down long enough to explore your options.
Why not give it a try? You can watch Box of Moonlight online right now. It's well worth it! If you watch, please come on back and let me know what you think. What's your Splatchee Lake? 
Carissa Pavlica is a staff writer for Movie Fanatic. Follow her on Twitter and on Google+.