Talk about a match made in Hollywood heaven!
Blonde bombshells (and new BFFs) Amy Schumer (Trainwreck) and Jennifer Lawrence (The Hunger Games saga) are co-writing a screenplay for a comedy film in which the two will portray sisters. While this isn't by any means Schumer's first foray into the screenwriting biz, this joint effort marks Lawrence's behind-the-scenes debut. Both have proven time and again that they're two hilarious women (both on- and off-screen) so I have high hopes that this upcoming movie will be one for the books!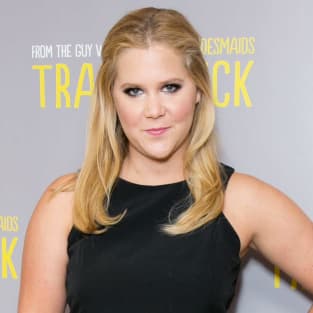 Lawrence revealed the news on Wednesday morning, during a New York Times interview. The interview was actually about Lawrence's final bow playing heroine Katniss Everdeen in the upcoming The Hunger Games: Mockingjay Part 2, but it sounds like she was just so damn excited about her new project that she couldn't help but spill the beans. The Oscar-winning star said that she and Schumer had already completed about 100 pages of the script. Lawrence went on to sing Schumer's praises, speaking highly of their easy-breezy collaborative creative process:
Amy and I were creatively made for each other. We have different flavors. It's been the most fun experience of my life. We start the day off on the phone, laughing. And then we send each other pages. And we crack up. I'm flying out tomorrow to see her in Chicago. We'll write a little bit with her sister, Kim, who worked with Amy when she was writing 'Trainwreck.' (New York Times)
We don't blame the 25-year-old mega-star for breaking the news so early into the project's development -- we're pretty excited too, JLaw!
Caralynn Lippo is a staff writer for Movie Fanatic. Follow her on Twitter.