Apparently inking a deal with Amazon to complete a mini-series is not slowing Woody Allen's roll in the slightest.
We don't know much yet about this upcoming entry to the Woody Allen silver screen oeuvre, but we do know that the ever-growing cast is looking to be pretty excellent! Even better, it includes several actors who have never worked with Allen before, so, at the very least, it will certainly be interesting to see how Allen fares without some of his most recent staples.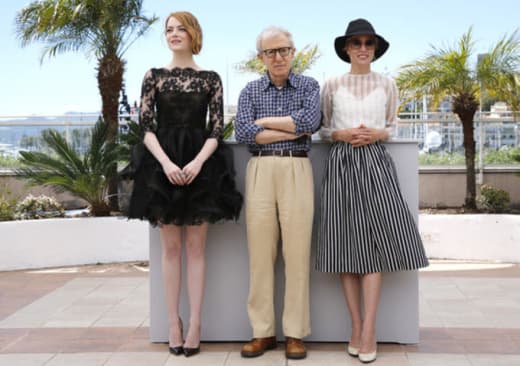 Allen's newest project is in pre-production, set to begin filming on location in both New York and Los Angeles this month. The film was announced in January, and details aside from the cast and filming locations have been kept under wraps. We do know it's a comedy, at least! (Shocking, we know.)
Back in March, Jesse Eisenberg (star of the upcoming American Ultra), Kristen Stewart (Twilight) and Bruce Willis (the latter two Woody Allen first-timers) were confirmed as part of the ensemble cast. In May, Blake Lively (The Age of Adaline) was added to the line-up and in mid-July, Parker Posey (Dazed and Confused) revealed she'd signed on to the project. The balance of the cast, just announced earlier today, includes Corey Stoll (Ant-Man), Ken Stott, Anna Camp (Pitch Perfect), Stephen Kunken, Sari Lennick, Paul Schneider and Jeannie Berlin.
Looks like his latest muse, Emma Stone (Magic in the Moonlight), is sitting this one out. She and Joaquin Phoenix (The Master) starred in Allen's most recent release Irrational Man, which debuted in July. Allen's untitled upcoming film is set for a 2016 release, before the debut of Allen's upcoming Amazon mini-series.
Caralynn Lippo is a staff writer for Movie Fanatic. Follow her on Twitter.