Today at Disney's D23 Expo in Anaheim, CA. Star Wars fans were treated to their first peek at the cast of Rogue One. It's a pretty impressive list of actors too.
The film, which is the first in the new standalone Star Wars "stories" series, introduces audiences to the brave Bothan spies who risked their lives to steal the original Death Star's plans. That's right, Rogue One takes place before the events of Star Wars: A New Hope.
"It goes into new territory, exploring the galactic struggle from a ground-war perspective while maintaining that essential Star Wars feel that fans have come to know" Lucasfilm's Kathleen Kennedy explained.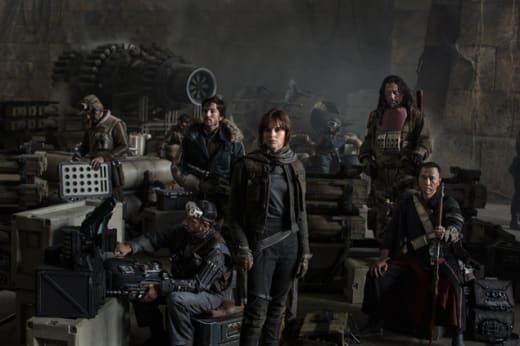 The Star Wars: Rogue One cast includes (Left to Right above): Riz Ahmed, Diego Luna, Felicity Jones, Jiang Wen and Donnie Yen. Also appearing in the film are a few more familiar faces: Ben Mendelsohn, Forest Whitaker, Mads Mikkelsen, and Alan Tudyk round out the cast.
Gareth Edwards (Godzilla, Monsters) is the film's director and the story idea originated with ILM VFX guru John Knoll.
In other D23 news, it's official writer-director Colin Trevorrow (Jurassic World) will direct Star Wars: Episode IX (2019).
This isn't exactly movie news, but it's massive nonetheless. Disney chairman Bob Iger announced a Star Wars theme park is coming to both the California and Orlando parks. "These new lands at Disneyland and Walt Disney World will transport guests to a whole new Star Wars planet, including an epic Star Wars adventure that puts you in the middle of a climactic battle between the First Order and the Resistance" Iger said.
I don't know about you, but I'm counting the days for Star Wars to thrill me once again as it did when I was a kid. Fun times ahead my fellow geeks!
Star Wars: Rogue One is scheduled for a December 16, 2016 release.