This is the second film by the name of Trumbo​ in the past ten years. The first was a documentary featuring a look into the man, Dalton Trumbo, and using real life accounts of the atrocities suffered by Trumbo as a result of his blacklisting for refusing to answer questions about communism under oath.
He went to prison, his family was exiled to Mexico, his children were shunned; it was horrific.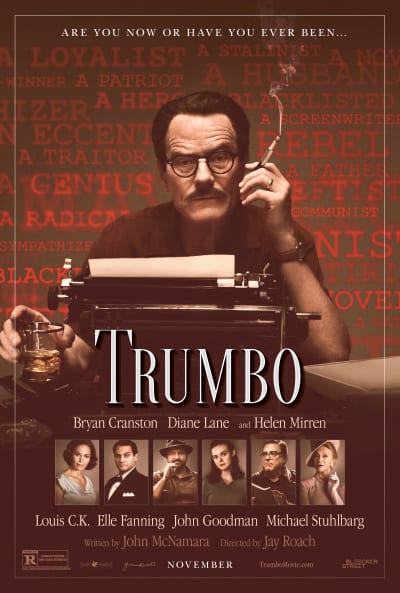 The official synopsis follows:
The successful career of 1940s screenwriter Dalton Trumbo (Bryan Cranston) comes to a crushing end when he and other Hollywood figures are blacklisted for their political beliefs. TRUMBO (directed by Jay Roach) tells the story of his fight against the U.S. government and studio bosses in a war over words and freedom, which entangled everyone in Hollywood from Hedda Hopper (Helen Mirren) and John Wayne to Kirk Douglas and Otto Preminger.  
Starring Bryan Cranston (Argo), Adewale Akinnuoye-Agbaje, Louis C.K., David James Elliott, Elle Fanning (Maleficent), John Goodman, Diane Lane (Man of Steel), Alan Tudyk, Michael Stuhlbarg and Helen Mirren (The Queen).
The film will be released on Nov. 6, 2015.
Carissa Pavlica is a staff writer for Movie Fanatic. Follow her on Twitter and on Google+.