It's time to choose sides!
Warner Bros. and Legendary announced Wednesday they are officially uniting the two monster franchises.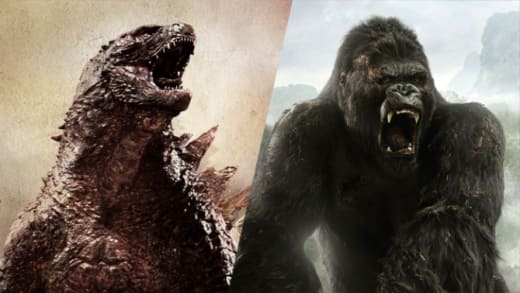 According to Variety, Warner Bros. and Legendary stated the basis for the film will be an "ecosystem" of giant super-species, some you may know and some who are brand new, as the Monarch organization that unearthed Godzilla expands its mission in multiple releases.
The first films in the partnership are Kong: Skull Island which has a release date of March 10, 2017 followed by Godzilla 2 with a release date of June 8, 2018.
Production of Kong: Skull Island begins on October 19 and will star Tom Hiddleston (Thor), Brie Larson (Trainwreck), Corey Hawkins (Straight Outta Compton) and Jason Mitchell (Straight Outta Compton). The film is being directed by Jordan Vogt-Roberts with the script being written by Max Borenstein, John Gatins and Dan Gilroy. Thomas Tull and John Jashini from Legendary will produce with Mary Parent. 
Thomas Tull said in a statement: "Audiences really responded to Godzilla. Today, I'm excited to reveal that film was only the beginning of an epic new entertainment universe. As a lifelong fan of these characters, I've always wanted to see the ultimate showdown, and today were pleased to be announcing that and more."
Kevin Tsujihara from Warner Bros. said in a statement: "Working with our partners from Legendary, we enjoyed tremendous creative and commercial success with Godzilla. It's great to be able to revisit these characters and help create a franchise with so many creative possibilities for filmmakers. Fans love these big, globally iconic films and it doesn't get any bigger than this." 
Godzilla grossed $529 million worldwide with Legendary financing 75% of the $160 million budget and Warner Bros. providing the rest and companies splitting the marketing costs. 
Samantha McAllister is a staff writer for Movie Fanatic. Follow her on Twitter.