With The Final Girls, five modern day teenagers find themselves trapped inside of a 92-minute 80s horror film.called Camp Bloodbath. The movie is amusing and sometimes (rarely) bloody, but where it works best is when it focuses on Max (Taissa Farmiga) coping with the loss of her mother, Amanda (Malin Akerman), who just so happened to be one of the stars of Camp Bloodbath.
Amanda's claim to fame was starring in an 80s slasher flick, and it was something she couldn't outrun, but her relationship with her daughter was more important. Unfortunately, before she could change the fate of her acting career, she died in a car accident. 
On the 3-year anniversary of her death, just as Max was making some headway in high school with her best friend Gertie (Alia Shawkat) and potential boyfriend Chris (Alexander Ludwig), Gertie's brother, Duncan (Thomas Middleditch), a Bathmatician (Camp Bloodbath expert), talks her into joining them for an event honoring the film. When the movie theater in which they were watching the film catches fire, they need to escape, and for no particular reason they find themselves trapped inside of the world of the movie. Bad girl, Vicki (Nina Dobrev), is along for the ride.
It's helpful to have a Bathmatician on hand who can recite all of the lines by heart and understands the motivations of characters, most especially the killer, Billy Murphy, who wields a machete to kill anyone in the film who has sex (of course), one of whom is Nancy, the character Amanda played, and who Max desperately wants to save.
There are very limited references to the differences between the kids from the 80s and the present day. When the fan carrying the original camp counselors rolls around conversation between sex-crazed Tina (Angela Trimbur) and Duncan results in him using the word "tubular," and later he eggs on equally sex-crazed Kurt (Adam DeVine) into some terrible dialog just so he could tell him it was oh, so bad, but generally, other than their unfamiliarity with modern day gadgets, tube socks and lack of respect for sex (is that strictly an 80s thing?), it seemed like a missed opportunity.
Really surprising was the lack of nudity and kill shots. That's not to say they're necessary for the enjoyment of a supposedly scary movie, but if there are two things that were prevalent in 80s slasher films, and in Friday the 13th​ in particular (which Camp Blood seems modeled after given a certain sound emitted when Billy Murphy is on his way and where he lives in the woods), it was breasts and blood. Not here.
What was delivered was a poignant story about loss. While it might have been unexpected, it worked in the setting, which was only realized as the movie progressed. Farmiga's youthful looks played beautifully as the wounded heroine, who together with her mother's character were the final girls, the only virgins, the untouchables, the girls who could kill Billy Murphy. 
The movie was beautifully filmed, even on a low budget. The colors were vibrant and fantastical, and the methods used to transport the characters through different portions of their experience were unique and fun. It was obvious a lot of thought was put about what it might be like slipping inside a movie. Was it real or a dream? Does it matter? That's up to you to decide.
There was an incredibly satisfying ending, two actually, and room for a sequel. After all, this is, if not an actual slasher film, an homage to them. There's always room for a sequel. It was abundantly clear the cast had a great time with this movie and not a single one failed to shine with the material given.
Tame by movie standards (and horror standards in particular), I imagine it will air at some point on network television (at least basic cable). The cast is crafted from hit television series such as American Horror Story, The Vampire Diaries, Vikings, Arrested Development, Silicon Valley, Modern Family and Trophy Wife. It would have a built in audience on the small screen, which is where I watched it, courtesy of Amazon.
If you're looking for a fun popcorn movie that will make you laugh, scream once or twice and possibly even tear up a little, go to see The Final Girls or buy or rent it on Amazon. It's definitely worth it, not just for the cast, but for the clever romp inside an 80s horror movie.
Click below, and you can watch it at home tonight.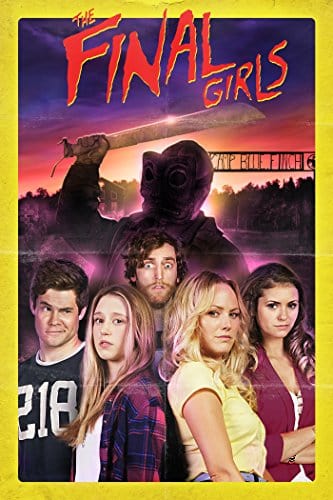 Carissa Pavlica is a staff writer for Movie Fanatic. Follow her on Twitter and on Google+.