What's your biggest fear?
Chances are, whatever it is, it doesn't compare to being left to fend for yourself on Mars, but that's exactly what happens to Mark Watney in The Martian.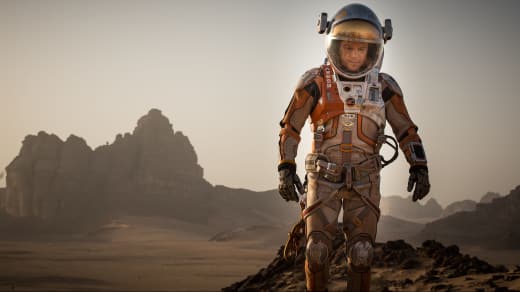 Matt Damon (Elysium) is absolutely fantastic in the role. He kept me glued to the screen to the point where I barely noticed the movie was two and a half hours long. Even though he spends most of the film interacting with just a camera, he's so charming and funny that you feel as though you're there with him.
I can't speak for the accuracy of the science, but regardless of how realistic any of it is, it's extremely entertaining. Watney's will to live despite the odds being stacked against him make it impossible not to root for him.
As a botanist, he learns to grow food on Mars using creative methods. As each new challenge is thrust upon him, his intelligence and determination kick in. Despite his dire circumstances, he never loses the humor that makes him so fun to watch. His undying spirit can not be beat.
Though Matt Damon makes the movie, the star studded supporting cast does a wonderful job adding to the drama and excitement. Jessica Chastain's (Zero Dark Thirty) Commander Lewis is willing to put it all on the line for her crew, and her guilt over leaving Watney behind is evident.
Jeff Daniels (Looper) brings his dry humor into the mix as the head of NASA. Donald Glover, Chiwetel Ejiofor, Kristen Wiig, Michael Pena, Kate Mara, and Sean Bean all add their fantastic contributions as they work to bring Watney home.
The cinematography as well as Ridley Scott's (Prometheus) direction are also excellent and add to the overall enjoyment and feel of the film. Any time a movie takes place in space, the possibility exists for it to look cheesy and fake, but The Martian does a great job of making it feel real.
Whether you're looking for action, drama, science fiction, or comedy, The Martian fits the bill. It's an all around exciting and enjoyable film that I would recommend for all movie-goers. While it is a bit long, you don't feel it as the cast, writing, and action will have you engrossed from beginning to end.
If you're looking for a movie that has the ability to appeal to all different tastes, look no further than The Martian.