Creed is definitely a boxing movie, but far more than that, it's about identify and family.
Adonis Johnson (Michael B. Jordan) has been fighting all his life. A child of an affair who grew up in group homes and juvie, his start was rough, but he settled into a different type of fighting once he was given a home by the wife of his father, Apollo Creed.
Year later he wants to see if he can follow in his father's footsteps, making a name for himself without his father's name, but with the help of his father's former rival, Rocky Balboa (Sylvester Stallone).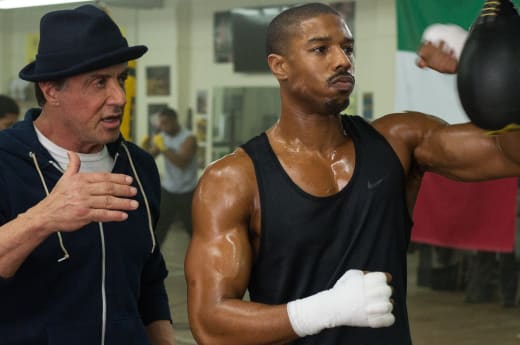 Creed isn't reinventing the wheel here. There have been six movies in the Rocky franchise to come before it, but writer and director Ryan Coogler (Fruitvale Station) wasn't even born by the time Rocky IV had been released. 
Thusly, he brings with him an infusion of new blood and the turn of story over to the Creed side history, and surprisingly, it works. Maybe it's written into our genetic code to get a Rocky fix now every so often, as well as our pre-written enjoyment thereof. More likely, what Coogler offers fits in so well with what comes before that Creed can't miss.
Jordan has been one to watch for years now, winning critical acclaim for his performance in Fruitvale Station. As Adonis he's strong, vulnerable and compelling to watch. It's just as easy to root for him as it was for Rocky in 1976. His internal struggle is that he was a mistake. As much as he wants to fight and follow in his father's footsteps, he wants to do it without the world knowing to whom he really belongs.
Of course, as soon as you learn that, you know it will be a part of his journey to be "outed" at some point and weather the storm of notoriety as a bastard child of the former heavyweight champion. 
As Adonis (Donnie) discovers who he is, he also learns who his father was. He gets to know Rocky and they form a bond through boxing that Rocky could never form with with his own son. In short, it's everything you expect the movie to be. Rocky teaches Donnie there is more to boxing than throwing a punch. Don reminds Rocky what it means to live. They both have hearts of champions, you guys!
With each training scene and each swell of familiar music, there's a ripple of nostalgia for characters you know so well, and a desire to get to know Don a little bit better. He lands the big fight and oh, wouldn't it be wonderful if boxing was as it was in the movies? Two fighters throwing punches with everything they've got going round for round, never letting up on each other, picking themselves up off of the canvas, refusing to give up.
It doesn't even matter who wins. Or does it? We're not going to give away the ending (or the middle, for that matter) here at Movie Fanatic because that's not what we do. Is it worth paying to see at the theater? You bet. If you're a fan of the previous films in the franchise, and you want to say hello to Rocky again, you can't go wrong.
Carissa Pavlica is a staff writer for Movie Fanatic. Follow her on Twitter and on Google+.