As far as I'm concerned, Tina Fey and Amy Poehler can do no wrong. 
Any time these two get together, chances are the product will be gold, and Sisters is no exception. 
As always, these two are excellent as two sisters who head back home to Florida before their parents sell their childhood house.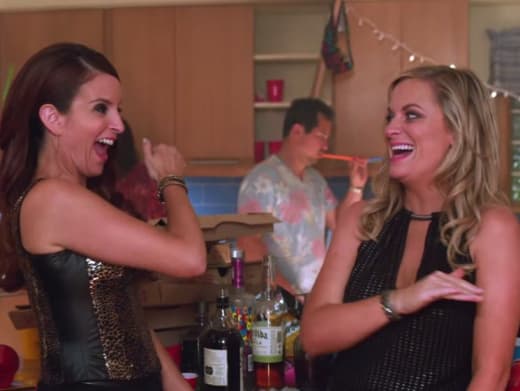 Poehler plays Maura Ellis, the responsible one who always puts everyone else's needs before her own. Fey is Kate Ellis, the more free-spirited sister who has a hard time keeping a job. 
Kate struggles to connect with her daughter, who wishes her mom could be more responsible like her aunt. Recently divorced Maura wishes she could let loose and have fun without always having to worry about everyone else.
It's the perfect setting for the story. When the sisters find out their parents are selling their home, they decide to throw one last party. Kate agrees to be the "party mom" and stay sober so that Maura can let her "freak flag fly." 
The result is an entertaining and heartfelt movie that will keep you laughing from beginning to end. 
Yes, it's ridiculous and completely over the top, but that's what makes it hilarious. It's also funny without being overly crude or gross in case that's not your thing (it's not mine). 
The always stellar Maya Rudolph joins Fey and Poehler as Brinda, Kate's archenemies from high school who keeps trying to crash the party. 
The rest of the cast is rounded out with James Brolin, John Leguizamo, SNL's Bobby Moynihan, and John Cena. Everyone contributes to making this a laugh-out-loud experience that you will not want to miss. 
So, if you are looking for something that will keep you laughing but also includes some sweet, heartfelt moments, you won't be disappointed in Sisters. It's definitely worth the trip the theater this holiday season.