Star Wars: The Force Awakens Review: Lives Up to the Hype
by MegBonney at . Updated at . Comments
After all of this hype and endless anticipation, I had the pleasure of seeing the new Star Wars movie. I left the theater certain of three things: First, is that I loved the movie, the second is that I want to be Rey and I am in love with Finn and the third is that I'm pretty confident that I am, in fact, a Jedi. 
When the lights dimmed and the music started, I felt that surge of excitement that only a movie experience like this could provide. As John Williams' score blasted through the theater and the words scrolled past, I realized instantly why people who had already seen Star Wars: The Force Awakens were so pumped. In the first few minutes I was filled with more fuzzy, warm nostalgia than I could possibly handle and it didn't stop there.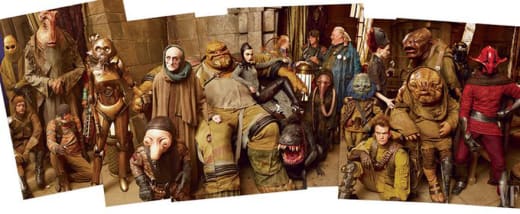 The film takes place 30 years after the fall of the Galactic Empire. The new rising evil is a group called The First Order and they are searching for the missing Luke Skywalker. General Leia (the gorgeous Carrie Fisher) is leading the Resistance and sends her best pilot, the insanely charming, Poe Dameron (Oscar Isaac), to the dusty, junkyard planet called Jakku to search for clues on her brother's location. Side note: I would love an entire movie devoted just to Poe, he was that interesting. 
On Jakku, we meet the fierce, young scavenger named Rey. Rey (Daisy Ridley) is by far my favorite character in the movie franchise. She takes care of herself but still shows her vulnerability and her compassion when she saves the adorable droid BB-8 from being captured. Instead of selling him for more food than she could ever imagine, the noble Rey refuses the interested buyer's offer, making herself a instant target. Rey is a skilled fighter without a shred of distressed damsel in her. 
Without giving too much plot away, I want to jump to Finn (John Boyega). He is a Stormtrooper who rebels against The First Order. His interactions with the pilot, Poe, are great and refreshingly different than the usual take on that type of team up. Instead of the typical bickering that you'd expect from an experienced pilot (Poe) and a newbie (Finn) in that ship, we get to see them cheering for each other and forming an instant bond. Finn and Rey are a great team too. When they first meet, they are being chased and Finn keeps trying to help Rey to safety and the self-sufficient Rey rightfully refuses. Rey yelling at Finn to stop holding her hand was the best. 
Getting to see all of the old crew back was awesome but my favorite call-back had to be the Millennium Falcon. We got to see many of our favorite heroes from the past movies but not any of the villains. In this installment we have Kylo Ren (Adam Driver), who was chilling and creepier than I would have expected. I am really excited to see where his story goes considering the events of this movie (which I won't tell you here) because that is bound to have a huge impact on his character in the next film.
What I really enjoyed with this movie was the limited use of CGI. It really felt like the original group of Star Wars films, right down to the Cantina style band. Overall, J.J. nailed it. The plot felt very similar to A New Hope, but I think I liked it more because of that. There was humor, there was action and it had just the right amount of nostalgia and winks to make it exactly what I wanted from this movie. It deserves all of the hype and then some. Daisy Ridley (as Rey) and John Boyega (as Finn) really shine and bring a fresh energy to the franchise with their sparkling chemistry. I was left wanting more, but in a good way.
I left the theater happy, fulfilled and wanting to use the force in my everyday life. 
Meg Bonney is a staff writer for Movie Fanatic. Follow her on Twitter.