The Martian won a Golden Globe for Best Motion Picture - Comedy.
In doing so, it kept some very comical movies from their due.
Movies that otherwise wouldn't have a shot at an award. Movies like Spy.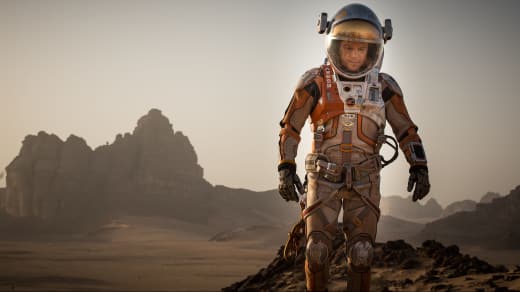 Spy was very funny. From start to finish. It was meant to be. It was a genuine comedy for comedy's sake.
When showing The Martian on the Golden Globes, they picked the one scene in which someone laughs out loud to try to prove their case it was a comedy.
Was it a fair assessment to put a dramatic movie about an astronaut fighting for his life after being left behind on Mars up against genuine comedies, even if it had some lighter moments?
You decide.
Take this handy dandy poll. It's simple and to the point. If you really do think The Martian should have run as a comedy, say so.
But either way, drop a comment and let us know your reasoning. 
And please, don't just use the answer that you want The Martian to win Best Picture in any way possible, so if it takes competing as a comedy to win, then comedy it is. 
That's one slippery slope we never want to go down.
And to that I say...which was more funny, The Martian or The Hateful Eight? I'd reckon the latter to be full of more genuine laughs. So maybe IT should have been in the comedy category and wiped out The Martian all together.
Carissa Pavlica is a staff writer for Movie Fanatic. Follow her on Twitter and on Google+.