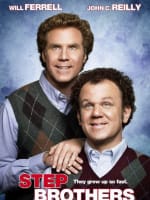 Watch Step Brothers Online
The Step Brothers full movie has produced some time tested comedy moments. Watch Step Brothers online and see why.
Purchase
Purchase Step Brothers online via our affiliates and own a digital copy for life.
Streaming
Stream Step Brothers online using our partners below. Some options are subscription-based and others are free streaming supported by ads.
Step Brothers features the comedic chemistry that is Will Ferrell and John C. Reilly. Their movie is hilarious, as can be seen when you watch Step Brothers online.