47 Ronin
Keanu Reeves returns to martial arts in 47 Ronin. 47 Ronin is out now on DVD and Blu-Ray and we delve deeper into the bonus features.
Product Description
47 Ronin lands on DVD and Blu-Ray starring Keanu Reeves in a return to martial arts.
Reeves stars as a samurai warrior who must get revenge when his Ronin's leader is killed.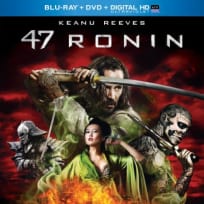 $4.98
MPN:

MCABR61130457

Product ID:

MCABR61130457

Release Date:

GTIN-13 / EAN Code:

0025192219740

Weight:

0.15 lb

Depth:

6.7 in

Width:

5.4 in

Height:

0.6 in

Studio:

Universal Studios
47 Ronin