Big 25th Anniversary Edition
Big lands on DVD and Blu-Ray in an impressive 25th anniversary edition. The bonus features only further enhance why Big is a modern American classic.
Product Description
Big celebrates its 25th anniversary with a stellar new DVD and Blu-Ray set. Big stars Tom Hanks and would be the movie that turned him from likable actor to international superstar.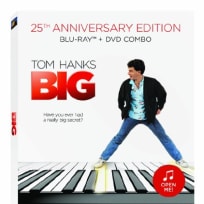 $8.67
Release Date:

GTIN-13 / EAN Code:

0024543883906

Weight:

0.1 lb

Depth:

6.6 in

Width:

5.3 in

Height:

0.8 in

Studio:

20th Century Fox
Big 25th Anniversary Edition