Hansel and Gretel Witch Hunters Blu-Ray/DVD
Hansel and Gretel: Witch Hunters arrives on DVD and Blu-Ray and the best part is director Tommy Wirkola's unedited cut. The Hansel and Gretel story is brought to life for a whole new generation.
Product Description
Hansel and Gretel: Witch Hunters imagines what happened to the two lost children who found themselves in that witches house made of candy. Well, they're played by Jeremy Renner and Gemma Arterton and they're all grown up. Can you guess what they do for a living now? Well, they're witch hunters!
The Blu-Ray and DVD of the film that banked $200 globally is now out.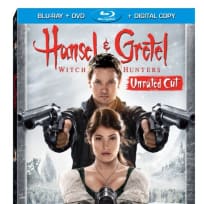 $2.67
MPN:

PARBR7912949

Product ID:

PARBR7912949

Release Date:

GTIN-13 / EAN Code:

0032429129499

Weight:

0.1 lb

Depth:

6.8 in

Width:

5.4 in

Height:

0.6 in

Studio:

Paramount
Hansel and Gretel Witch Hunters