Identitiy Thief DVD / Blu-Ray
Melissa McCarthy is at it again as her latest film, Identity Thief, lands on DVD. McCarthy stars with Jason Bateman in the comedy hit that is quite timely if nothing else.
Product Description
The Identitiy Thief DVD is the unrated version of the Jason Bateman / Melissa McCarthy comedy. You can watch this hilarious duo in Blu-Ray, instant download or DVD right from Amazon.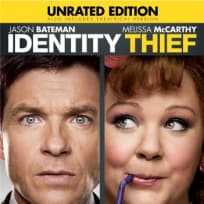 $8.50
MPN:

MCAD61124149D

Product ID:

MCAD61124149D

Release Date:

GTIN-13 / EAN Code:

0025192161445

Weight:

0.2 lb

Depth:

7.4 in

Width:

5.3 in

Height:

0.7 in

Studio:

Universal
Identitiy Thief DVD