Iron Man 3 DVD/Blu-Ray Combo Pack
The arrival of Iron Man 3 on DVD and Blu-Ray is something to celebrate, and not just for superhero fans. The Robert Downey Jr. film is spectacle, and with the home video... that is merely the beginning of the awesomeness.
Product Description
The Iron Man 3 DVD and Blu-Ray has arrived and it may just be the best ever from Marvel. Robert Downey Jr. is back as Tony Stark/Iron Man and he is deeply affected by what happened in New York during The Avengers. The film embraces that fact and the addition of writer-director Shane Black to the Iron Man franchise is something to behold.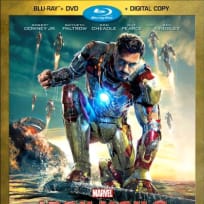 $27.99
Release Date:

GTIN-13 / EAN Code:

0786936836431

Weight:

0.1 lb

Depth:

6.7 in

Width:

5.4 in

Height:

0.6 in

Studio:

Walt Disney Studios Home Entertainment
Iron Man 3