Pacific Rim DVD/Blu-Ray Combo Pack
Pacific Rim storms onto DVD and Blu-Ray with the most impressive of bonus features. The Guillermo del Toro masterpiece finds new realms of excellence on home video.
Product Description
Guillermo del Toro dream project, Pacific Rim, is coming home on DVD and Blu-Ray. The film that stars Charlie Hunnam, Charlie Day and a bevy of seriously giant robots features the movie in hi-def, as well as a slew of bonus features sure to please the fans who made the film the highest grossing original story movie of 2013.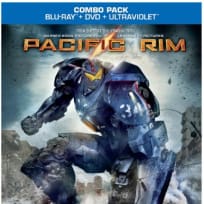 $11.96
Release Date:

GTIN-13 / EAN Code:

0883929256518

Weight:

0.3 lb

Depth:

6.7 in

Width:

5.3 in

Height:

0.6 in

Studio:

Warner Home Video
Pacific Rim