Pain and Gain DVD/Blu-Ray Combo Pack
Pain and Gain lands on DVD and Blu-Ray and other than a fun, painfully true story, there are no bonus features to be found. Pain and Gain stars Mark Wahlberg and Dwayne Johnson in the true story of some 1990's Miami personal trainers seeking to get rich quick.
Product Description
The unbelievable true story Pain and Gain comes home on DVD and Blu-Ray. The Michael Bay film stars Mark Wahlberg, Dwayne Johnson and Anthony Mackie as real-life personal trainers who kidnap a millionaire to get the easy street to the American dream. Tony Shalhoub and Ed Harris also star.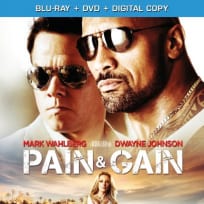 $1.75
MPN:

PARBR7913665

Product ID:

PARBR7913665

Release Date:

GTIN-13 / EAN Code:

0032429136657

Weight:

0.2 lb

Depth:

6.7 in

Width:

5.4 in

Height:

0.6 in

Brand:

Paramount
Pain and Gain