Snitch DVD/Blu-Ray Combo Pack
The true story of Snitch is almost too extraordinary to believe. As Snitch hits DVD and Blu-Ray, the Dwayne Johnson thriller really comes to life with a bevy of bonus features and we've got an exclusive clip!
Product Description
Dwayne Johnson stars in Snitch, out now on DVD and Blu-Ray. Johnson portrays the real life father who went undercover in an effort to bring drug lords to justice in exchange for the freedom of his son. Johnson's son was framed for drug smuggling and due to mandatory sentences, is rotting in a maximum security prison with no hope for parole.
Johnson swings into action, trying to bring down Benjamin Bratt's drug lord... all set up in a deal with a federal prosecutor played by Susan Sarandon.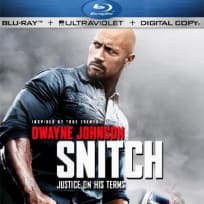 $3.85
MPN:

SMIT66126826BR

Product ID:

SMIT66126826BR

Release Date:

GTIN-13 / EAN Code:

0025192190612

Weight:

0.15 lb

Depth:

6.7 in

Width:

5.3 in

Height:

0.5 in

Studio:

Summit Entertainment
Snitch DVD/Blu-Ray