The Bling Ring Blu-Ray
The Bling Ring arrives on DVD and features only three bonus features. Yet, they astound in a way that compliments The Bling Ring movie and enhances it on home video.
Product Description
The Bling Ring lands on DVD and Blu-Ray and is not only a powerful film, but an uncanny portrayal of American culture, circa 2013. Emma Watson stars in Sofia Coppola's true tale come to life. The film has three bonus features sure to please fans and the movie itself, is a pure joy.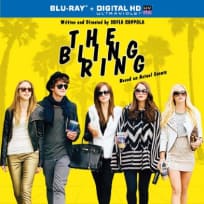 $5.99
Release Date:

GTIN-13 / EAN Code:

0031398177487

Weight:

0.15 lb

Depth:

6.7 in

Width:

5.4 in

Height:

0.6 in

Studio:

Lions Gate
The Bling Ring