The Breakfast Club 30th Anniversary Edition
The Breakfast Club is celebrating its 30th anniversary with a truly special home video release. The John Hughes film gets a Blu-Ray upgrade that is beyond worthy of such a classic.
Product Description
The Breakfast Club 30th anniversary edition is out now on DVD and Blu-Ray. Don't miss the John Hughes classic in all its glory.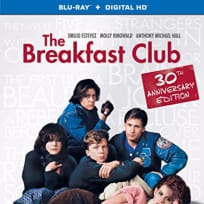 $4.78
Release Date:

GTIN-13 / EAN Code:

0025192274534

Weight:

0.2 lb

Depth:

6.75 in

Width:

5.3 in

Height:

0.4 in

Studio:

Universal Studios
The Breakfast Club 30th Anniversary Edition