The Call DVD/Blu-Ray Combo Pack
The Call lands on DVD and Blu-Ray and the Halle Berry-starring thriller is shockingly breathtaking. Berry stars as a 911 operator who gets pulled into a kidnapping where a life hangs in the balance.
Product Description
The Call lands on DVD and Blu-Ray staring Halle Berry as a 911 operator drawn into a kidnapping of a young girl (Abigail Breslin). The film is surprisingly tense and is already considered one of the best thrillers of 2013. When Breslin's character is kidnapped and placed in a trunk, armed with only a cell phone, she calls 911 and Berry and her must figure out where she is and where she is going.
The DVD and Blu-Ray for The Call is filled with bonus features that only add to the thrills.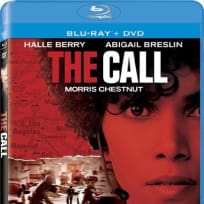 $3.90
MPN:

CTR42456BR

Model:

CTR42456BR

Product ID:

CTR42456BR

Release Date:

GTIN-13 / EAN Code:

0043396424562

Weight:

0.18 lb

Depth:

7.1 in

Width:

5.42 in

Height:

0.58 in

Brand:

TCM

Studio:

Sony Pictures Home Entertainment
The Call