The Frozen Ground DVD
The Frozen Ground lands on DVD and Blu-Ray and is a serial killer movie that will stick with you for years. John Cusack portrays the killer and Nicolas Cage is the man who brings him to justice.
Product Description
The Frozen Ground stars Nicolas Cage as an Alaskan State Trooper hot on the heels of John Cusack's serial killer. The true story also stars Vanessa Hudgens and will have audiences guessing around every corner.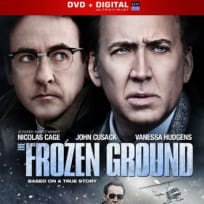 $4.72
Release Date:

GTIN-13 / EAN Code:

0031398176275

Weight:

0.15 lb

Depth:

7.5 in

Width:

5.4 in

Height:

0.7 in

Studio:

Lions Gate
The Frozen Ground