The Great Gatsby DVD/Blu-Ray Combo Pack
The Great Gatsby lands on DVD and Blu-Ray with a theatrical visual marvel to live up to. Our The Great Gatsby DVD review finds that Baz Luhrmann did Fitzgerarld proud and kept the DVD as vibrant as the theatrical version.
Product Description
The Great Gatsby stars Leonardo DiCaprio as the F. Scott Fitzgerard iconic character. Baz Luhrmann directs this spectacular looking epic, based on the Fitzgerald classic. The film is out now on Blu-Ray and DVD.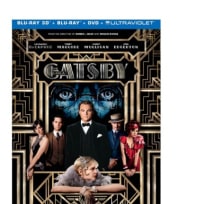 $34.80
MPN:

WARBR336433

Product ID:

WARBR336433

Release Date:

GTIN-13 / EAN Code:

0883929268658

Weight:

0.3 lb

Depth:

7.0 in

Width:

5.4 in

Height:

0.6 in

Brand:

Warner Home Video
The Great Gatsby