The Host DVD/Blu-Ray Combo Pack
As The Host premieres on DVD and Blu-Ray, creator Stephenie Meyer is hoping for audiences beyond the few that turned out in theaters. The film stars Saoirse Ronan in a futuristic alien invasion movie meets Y.A. love triangle story.
Product Description
The Twilight Saga mastermind Stephenie Meyer has a new vision of teenage love, The Host. Saoirse Ronan stars as a young Earthling who is taken over by an alien and caught in a love triangle that could send the entire reistance to the alien invasion into peril.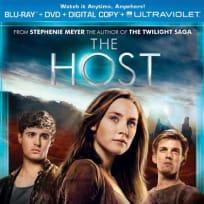 $14.25
Release Date:

GTIN-13 / EAN Code:

0025192158117

Weight:

0.2 lb

Depth:

6.7 in

Width:

5.4 in

Height:

0.6 in

Studio:

Universal Studios
The Host