The Purge DVD/Blu-Ray Combo Pack
The Purge arrives on DVD and Blu-Ray and Ethan Hawke scores another 2013 hit movie. The bonus features on The Purge DVD and Blu-Ray are sparse, but solid.
Product Description
Ethan Hawke stars in The Purge, out now on DVD and Blu-Ray. Hawke is a father living in a near future America where crime is legal one night a year. The Purge, as it is called, allows citizens to vent their frustration as murder, robbery... you name it is legal. As a result, government says, crime rates are at record lows.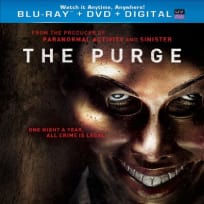 $5.99
Release Date:

GTIN-13 / EAN Code:

0025192183164

Weight:

0.02 lb

Depth:

6.7 in

Width:

5.4 in

Height:

0.6 in

Studio:

Universal Studios
The Purge