The Way Way Back DVD/Blu-Ray
The Way Way Back lands on DVD and is an utter treat. Steve Carell stars in The Way Way Back as a character unlike you've ever seen him play prior.
Product Description
The Way Way Back has arrived on DVD and Blu-Ray. The hilarious and heartwarming film stars Steve Carell, Toni Collete, AnnaSophia Robb and Allison Janney. It follows a young teen boy who is grappling with his mother dating a guy who is kind of a jerk and his summer in Cape Cod that will change his life.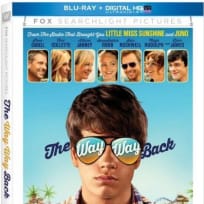 $2.99
Release Date:

GTIN-13 / EAN Code:

0024543889304

Weight:

0.18 lb

Depth:

6.69 in

Width:

5.35 in

Height:

0.55 in

Studio:

Fox Searchlight
The Way Way Back