The Wizard of Oz 3D Blu-Ray
The Wizard of Oz 3D gets the Blu-Ray treatment in a special 75th Anniversary Edition. Warner Bros. has impeccably gone over it, frame by frame, and created a Wizard of Oz that looks and sounds better than ever.
Product Description
The Wizard of Oz gets the 75th anniversary makeover as the 3D Blu-Ray arrives in stores. The film, restored for 3D and IMAX release, is as beautiful on home video as it was on the big screen.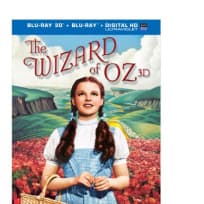 $12.99
MPN:

WHV1000396733TD

Product ID:

WHV1000396733TD

Release Date:

GTIN-13 / EAN Code:

0883929333332

Weight:

0.25 lb

Depth:

6.8 in

Width:

5.3 in

Height:

0.6 in

Studio:

Warner Home Video
The Wizard of Oz