Twilight Forever Blu-Ray
Twilight Forever: The Complete Saga has arrived and there could be no better gift for Twilight fans this holiday season. The 10-disc Blu-Ray and 12-disc DVD set features hours of never-before-seen Twilight Saga footage, interviews and photos.
Product Description
The Twilight Saga arrives on one Blu-Ray set as Twilight Forever comes home. Robert Pattinson, Taylor Lautner and Kristen Stewart star in the epic movie series from the book series by Stephenie Meyer. The entire Twilight set is now available on one Blu-Ray set with over nine hours of bonus features.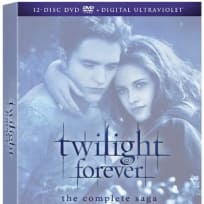 $28.95
Release Date:

GTIN-13 / EAN Code:

0025192196812

Weight:

0.18 lb

Depth:

7.1 in

Width:

5.42 in

Height:

0.58 in

Studio:

Summit Entertainment
Twilight Forever