Upside Down DVD/Blu-Ray
Upside Down lands on DVD, Blu-Ray and 3D Blu-Ray starring Kirsten Dunst and Jim Sturgess as real as can be star crossed lovers. They live on opposite planets that share an atmosphere, but little else.
Product Description
Upside Down stars Jim Sturgess and Kirsten Dunst as two lovers who live in different worlds. See, their planets share an atmosphere, but have opposite gravitational pulls. They meet on their planets' highest peaks as children and that sparks a friendship that will turn romantic over time. When their authoritarian government learns of their love, they crack down and separate the two... they hope permanently. Upside Down is out now on Blu-Ray, 3D Blu-Ray and standard DVD.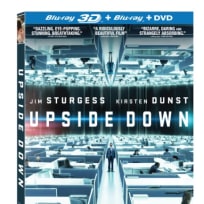 $20.29
Release Date:

GTIN-13 / EAN Code:

0687797140449

Weight:

0.1 lb

Depth:

6.7 in

Width:

5.4 in

Height:

0.6 in

Studio:

Millennium
Upside Down