White House Down DVD/Blu-Ray Combo Pack
White House Down premieres on DVD and Blu-Ray and Jamie Foxx and Channing Tatum make an electric combination. The White House Down home video also delves deeper into the filmmaking genius of Roland Emmerich.
Product Description
White House Down has arrived on DVD and Blu-Ray starring Jamie Foxx as the U.S. president and Channing Tatum as the Secret Service officer who becomes charged with saving the president. The White House has come under attack by and Foxx and Tatum are key to winning the battle.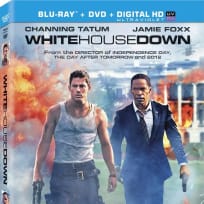 $5.72
MPN:

CTR41755BR

Product ID:

CTR41755BR

Release Date:

GTIN-13 / EAN Code:

0043396417557

Weight:

0.35 lb

Depth:

6.7 in

Width:

5.4 in

Height:

0.6 in

Studio:

Sony Pictures Entertainment
White House Down